Jennifer Gordon - Artistic Director
Jennifer Gordon is the founding director of the Northeast Atlanta Dance Center, the Northeast Atlanta Ballet, and now the Grayson School of Ballet.  Jennifer danced professionally with the Atlanta Ballet under the direction of Robert Barnett and with the Orlando Ballet.  She received countless scholarships to national programs all over the country.  Ms. Gordon appeared as a guest artist with the Atlanta Opera, Ballethnic, Tri-Cities Ballet, and the Gwinnett Ballet Theatre.
The Lilburn & Grayson School of Ballet has a carefully selected faculty of professional teachers who share a genuine interest in providing quality instruction as well as personal encouragement for each student.  We boast the finest faculty around.  Most impressive is the consistency in our faculty.  Instructors return season after season to bring their professional experience and wisdom to our classrooms.  Students benefit from the experiences of the seasoned professionals as well as the return of past alumni who bring their fresh voices to share new developments.
The Lilburn & Grayson School of Ballet prides itself in the quality of its guest faculty.  We recognize the importance of hiring outside professionals to further educate our dancers.  We are proud to have hosted such distinguished guest such as Mr. Shamil Yagudin of the Bolshoi Ballet as well as many other noted dance professionals.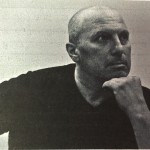 Slava Belinsky brings 30 years of experience as a professional dancer, teacher and choreographer. He received his ballet training from the renowned Bolshoi Ballet School in Moscow, Russia and the Kiev Academy…
Read More