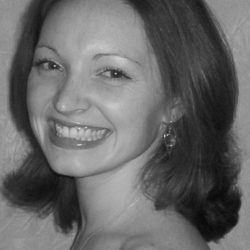 Sarah Kerr has been dancing almost all her life. She grew up through the Lilburn School of Ballet. As a member of the Northeast Atlanta Ballet she danced many lead roles such as Sugar Plum Fairy and Dew Drop in The Nutcracker, the lead in Paquita, the lead in Cinderella, and the Black Swan in Swan Lake.
Sarah attended the University of South Florida where she was awarded talent grants and scholarships. It was there that she learned to love modern dance as well as ballet. She was cast in every faculty concert and her choreography chosen for a student  run productions by the acclaimed faculty members. While in school she had the privilege of working with such artists and choreographers as Gretchen Ward Warren, Gabriella Darvash, Sandra Robinson, Lynne Wimmer, Michael Foley, Charles Flachs, Gerry Houlihan, Sasha Yapparov, and Nina Watt. She was also able to spend summers with North Carolina Dance Theatre and the Atlanta Ballet. She graduated with a B.F.A. in Dance Performance.
Sarah then returned to Atlanta and was invited to dance professionally with Full Radius Dance, and danced with them from 2006 to December 2009.  In 2010 Sarah joined Brooks and Company Dance. She has performed with them all over Atlanta and has danced principle roles in the critically acclaimed Blackbird and the wildly successful Into the Dark Woods. Dance critic Cynthia Perry wrote of Into the Dark Wood, "As Heroine, Sarah Kelly Kerr danced exquisitely. All eyes seemed to fall on her enchanting, radiant face." Sarah currently dances professionally with both Brooks and Company Dance and Rule of 3 Productions.