Jennifer Gordon, Artistic Director
Jennifer B. Gordon is the founder and Artistic Director of the Northeast Atlanta Ballet.  Jennifer grew up in Gwinnett County and attended Shiloh High School where she was an honor graduate.  She was a student of the Lilburn School of Ballet and a member of the Gwinnett Ballet Theatre where she was a principle dancer for over 7 years.
Upon Graduation Ms. Byokawski-Gordon was offered an apprenticeship with the Atlanta Ballet under the direction of Robert Barnett.  She remained with the company for four years as a company/corps de ballet member.  Ms Byokawski-Gordon performed in many Balanchine ballets as member of the Atlanta Ballet including "Marzipan", "Spanish", and "Snow" in "The Nutcracker, The Four Temperaments, Stars & Stripes, Theme and Variations, and Raymonda.  She appeared in Carmina Burana, By George, A Midsummer Nights Dream, Coppelia, Romeo & Juliet, Swan Lake, Giselle, Red Riding Hood from Sleeping Beauty and many others. Ms Byokawski- Gordon appeared in many outreach performances as a member of the Atlanta Ballet where she performed Mannie Rowe's "Somewhere" pas de deux. While a member of the Atlanta Ballet, Ms. Byokawski- Gordon appeared as a guest artist with several organizations.  She appeared as Odette in Swan Lake, Sugar Plum in The Nutcracker, and the title role in Cinderella.  She traveled to Tennessee where she performed Sugar Plum with the Tri- Cities Ballet Company.  Jennifer also performed with Ballethnic in their signature piece, "The Leopard Tale" and performed as a guest dancer with the Atlanta Opera for two seasons.  Ms. Gordon was also a soloist with the Orlando Ballet for a season where she appeared in numerous classical productions  as well as new dynamic choreographic works at the Bob Carr Center.
Ms. Gordon's choreography has been selected to appear at the Southeastern Regional Ballet Association's annual festival.  She has also had the opportunity to teach ballet to rhythmic gymnastic Olympic hopefuls in Key Largo, Florida.
Upon graduation from Georgia State University, Ms. Gordon decided to branch out on her own and founded the Northeast Atlanta Dance Center.  The Center quickly outgrew its space and had the opportunity to purchase the Lilburn School of Ballet and its professional facilities.
Jennifer founded the Northeast Atlanta Ballet in 1996 in an effort to provide performing opportunities for her advanced dancers.   Since its inception, the company has performed an annual production of "The Nutcracker".  The company has also performed full length classics including "Giselle", "Coppelia, "Sleeping Beauty", "Cinderella", and "Swan Lake".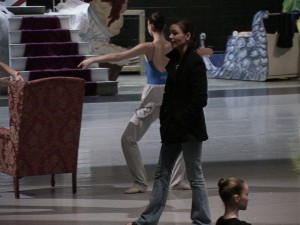 Ms. Gordon has trained hundreds of dancers. Many of whom have used their dance to earn college scholarships and to even continue on to professional careers.  Jennifer's students have been accepted to prestigious summer programs all over the country including the School of American Ballet, American Ballet Theatre, the Boston Ballet, Joffrey Ballet, The Rock School, North Carolina School for the Arts, Virginia Schools for the Arts, Orlando Ballet, North Carolina Dance Theater, and Columbia City Ballet.
Jennifer has also had the privilege of serving on the dance panel for the Georgia Council for the Arts.
Ms. Gordon lives in Gwinnett County with her husband Scott and their two sons, Erik and Ryan.